Performance of the A15 Bionic Processor on the iPhone 13 is average. The GB5 CPU single core is around 9% faster than the A14 due to an increase in main frequency of 8%. Furthermore, multi-core is 15% quicker than single-core. GPU performance is uncompromised, the version with 5 cores showing a 38 percent gain in overall performance. Apple has lost A-series chip team executives in the last two years. As a result, the CPU design of the A14 Bionic and A15 Bionic CPUs is nearly identical. The Apple A16 Bionic chip is slated to undergo core replacement at this level.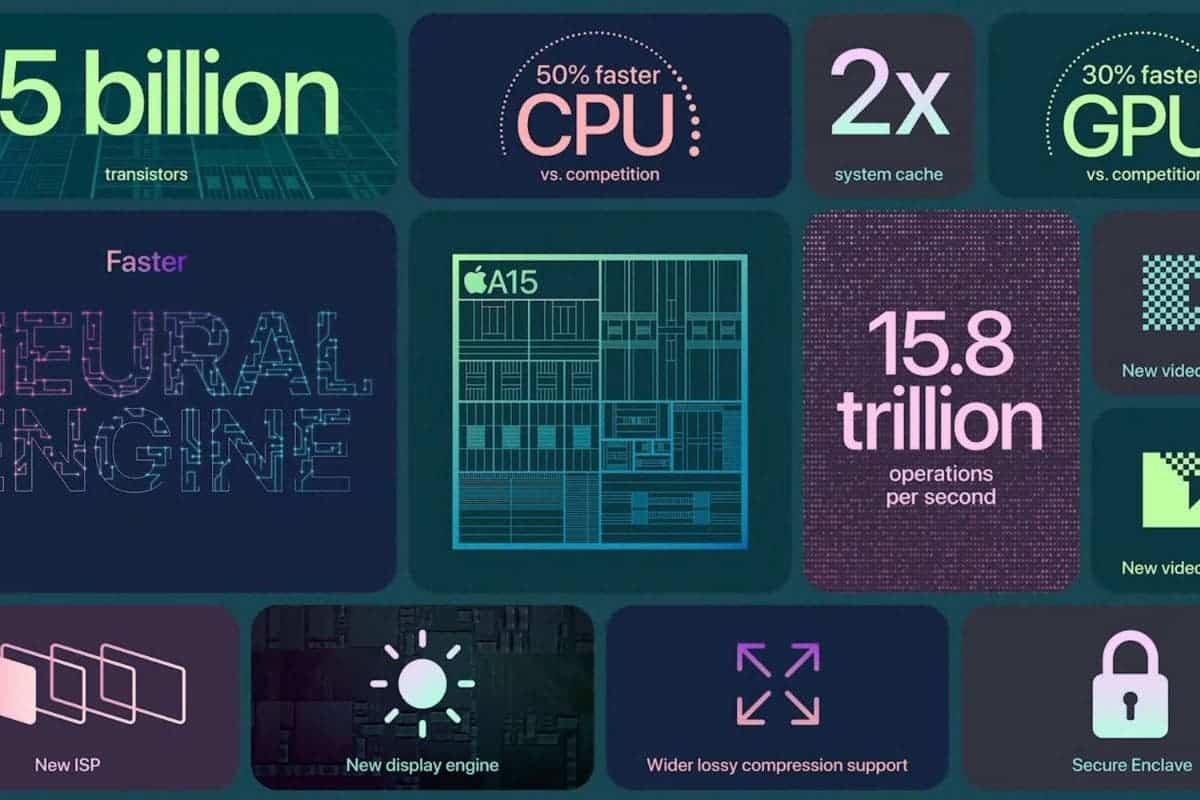 According to reports, the A16 bionic chip is manufactured using TSMC's 4nm process. Larger CPU cores are upgraded to Avalanche, while smaller cores (efficiency cores) are upgraded to Blizzard. Process-level transistor advancements are limited. These are the replacements for the A14 Bionic Firestorm + Icestorm and A15 Bionic Firestorm + Icestorm combos, respectively.
Until to the A13 Bionic, each iteration of Apple's A-series processors saw a 20 percent increase in single-core performance. Starting with the Apple A16 Bionic chip, similar advancements are predicted.

Despite the fact that the A15 processor has 27% more transistors than the A14, the transistor density (number of transistors per square millimeter) under the N5P (5nm enhanced version) has only increased by 1%, according to agency calculations.
ADDITIONALS
→ The 4nm Process To Be Used In The Apple A16 Bionic.

Apple's iPhone 12 series smartphones were the company's first to have 5nm CPUs. At the same time, network sources claim that the company is already planning a technical process improvement for future new items. Experts from the analytical firm Trend Force stated this in a recent study, naming the projected release dates for the first American-branded chips made utilizing the 4nm manufacturing technology.
The report also includes an estimate for 2022, when Apple is expected to convert to 4-nanometer technology for producing microcircuits at a Taiwanese chipmaker's facilities. The Apple A16 Bionic will be the first CPU of the new generation. It's probable that the ARM family of Apple M1 CPUs for laptops will see similar improvements.
TSMC and Samsung Electronics had previously declared that they have begun mastering increasingly "thin" technology processes (2-nm and 3-nm), with plans to commence mass production by 2025.
---
We appreciate your time for reading, kindly help us share !

Source : MyDrivers