The tablet market appears to have rebounded, owing to the COVID19 pandemic's influence on work, education, and even lifestyle. Unsurprisingly, Apple tops of the list, regardless the number of Android tablet manufacturers is declining. Manufacturers appear to be rethinking their mobile wallets in light of recent worldwide trends, and OPPO, following its Realme sub-brand, may be the last to catch up with the trend. Oppo, looking at the leaks and judging by these, then is preparing something more premium.
This OPPO tablet, which was revealed on Weibo by Digital Chat Station, somewhat reminiscent of the recent Huawei MatePad Pro 12.6, which also takes design cues from the iPad Pro. The display is wide, with narrow bezels that allow for a front-facing camera. At this point, it's indeed unconfirmed whether this OPPO tablet will also sport a 12.6-inch screen.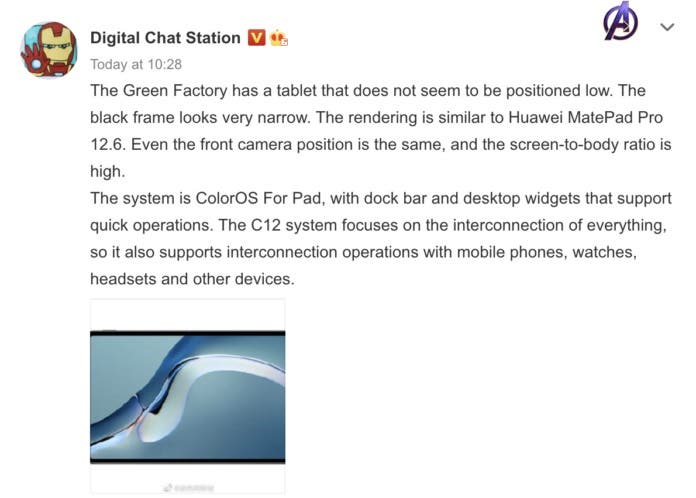 A tablet-specific version of ColorOS 12 will also be released, including support for a docking station and desktop widgets for quicker operations. This would also focus on establishing an ecosystem by integrating smartphones, watches, headphones, and other devices. The first Oppo tablet will not be released until later this year.
Of course, Android tablets aren't new, and OPPO appears to be late to the party. Its goal, however, could be to create a smart ecosystem hub rather than an all-in-one entertainment and productivity device. However, it is unclear when it will unveil its first tablet, and the company appears to be concentrating on publicizing its imaging technologies at the moment.

Source : Digital Chat Station